Informazioni utili

Lavarone Wellness
beauty & relax
P.Iva : 01461820225
Piazza Milano,
Lavarone-Cappella (TN)
Tel. +39 0464 784076
Tel. +39 0464 783237
Fax. +39 0464 783794
info@lavaronewellness.it

Credits 2008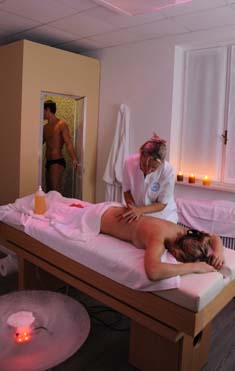 Lavarone Wellness offers the possibility for moments of beauty.
Pampered by our personnel,
you can enjoy both body and facial treatments.
Along with the most
traditional
beauty techniques, we invite you to try the
Vitalis and New Era
body and face treatments, true touches of beauty and wellness.
Our clients are taken care of through many types of massages and different baths that have in their essence beauty ingredients from the Alps.
Treatments, massages, baths and lots of sun: you can choose to get a tan in a solarium in the beauty area or get tanned by the sun in the garden in a complete stage of relaxation.
At the end, in order to have a more intense beauty and wellness experience, you have to give yourself the gift of one of the offers tailored to your needs. An unforgettable occasion of beauty and wellness blended together.


Newsletter
Special offers, news and much more ...

Subscribe!